May 26th 2013 in Cologne
Taikai is japanese for a competition, the direct translation would be something like "big meeting". In honor to this meaning it is not just about competing, but gathering together.
We will hold many seminars with Niina Soke in that time as well.
The 1st european Taikai will be in Mai 26th 2013 in Cologne. Next to the Mugai Ryu Meishi Ha Soke, Niina Toyoaki Gyokusou, we are awaiting participants, friends and masters from Europe, Japan and the United States.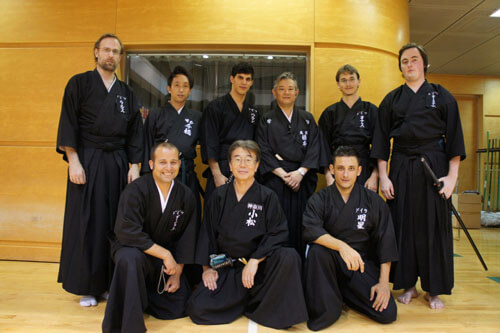 It is an honor for us to organize the first Mugai Ryu Taikai in Europe and are looking forward to a nice time together with the iaidoka and our guests.
Dates and signing in
Join the Taikai
All Mugai Ryu practitioners, as well as other Iaidoka can participate. All participants will be organised in groups depending on their rank.
Participation at the 1st European Mugai Ryu Taikai contains a free seminar with the Meishi Ha Soke Niina Toyoaki Gyokusou.
The taikai will be held May 26th at 13.30 pm. Entrance starts at 12.00.
The seminar with Niina Soke will be on May 25th at 13.00 pm.
Application and payment has to be done in advance and latest until April 30th 2013.
Signing in after April 30th will not be possible.
We will have a Taikai afterparty.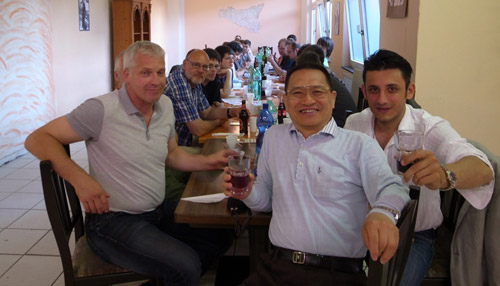 The Taikai-seminar will be held in the Gym of the Dreikönigsgymnasium in Köln:
DKG Gymnasium
Escher Str. 247
50739 Köln
The Taikai will be held in the Nippeser Tälchen Gym in Köln:
SH Nippeser Tälchen
Niehler Kirchweg 35
50733 Köln
The prices are:
Mugai Ryu e.V. (NPO) members: 80,- Euro
Mugai Ryu Europe Dojo members: 100,- Euro
External members: 130,- Euro
Participation at the Taikai offers:
Participation at the Taikai in the corresponding class
Participation at the seminar with Niina Soke
Lunch and water
You can sign in by eMail:
Mugai Ryu Europe e.V.
Luciano Gabriel Morgenstern
Holbeinstr. 6
50733 Köln
eMail: kontakt@tenshinkai.de